Group tours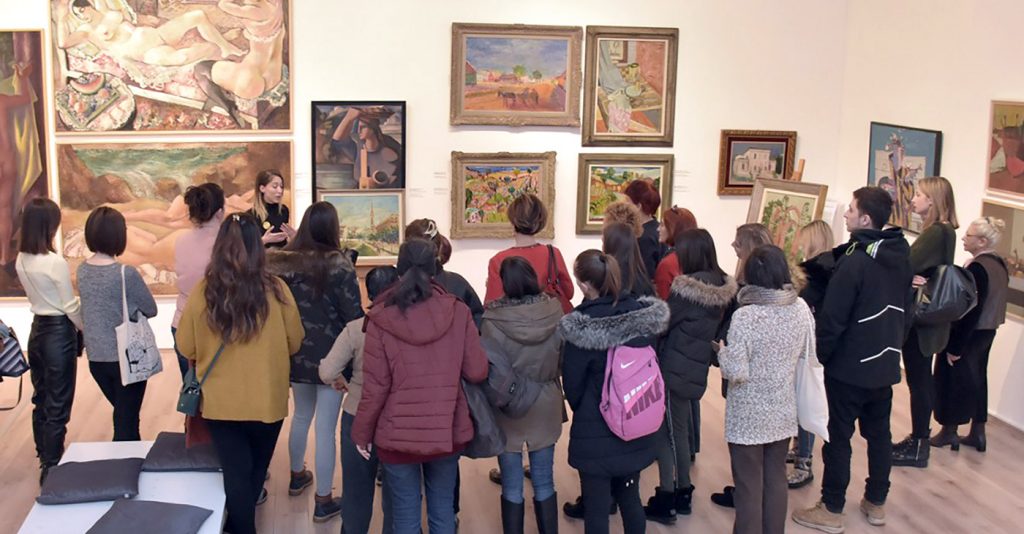 It is always more enjoyable to take a tour in a company. Therefore, we invite you to visit the Gallery in a group of 8+ people to get a 50% discount on regular ticket price.
Group visit must be booked via online request or by phone +381 21 4899 013.
There are also:
Guided tour through the Permanent Exhibition (90 minutes)
In Serbian or English, curators of the Gallery present significant artworks of the 18th, 19th and the 20th c. that illustrate the phenomenon and development of Serbian art of recent times and indicate the importance and place of national art and culture in the European context.
Serbian Art in 10 Scenes (60 minutes)
Emphasizing 10 masterpieces of Serbian Art from the Permanent Exhibition, curators of the Gallery present the most important artists of the 18th, 19th and 20th c., as well as various artistic themes, styles and genres through short stories.
Guided tour for school groups (45 minutes)
Museum educators of the Gallery reveal the most important artworks of Serbian Art and present the paintings of Paja Jovanović, Uroš Predić, Sava Šumanović and other famous artists. The story is adapted to school age students.
Thematic guided tours through the Permanent Exhibition (45 minutes)
In order to give a new interpretation and a different view of the Permanent Exhibition, curators present various topics, social and artistic phenomena, as well as interesting, little-known stories from art history to the audience through special curator tours. There are several tours available:
From the Ballroom to the Tavern – Get acquainted with the history of fun and leisure time through Art
Love as Inspiration – Find out how love is "painted" in works of art
In and Out of Fashion – Discover the history of fashion trends through the portraits from GMS collection
"Selfies Now and Then – Listen to the story about self-portrait and people's aspiration for self-presentation
History in Pictures – Find out which events from Serbian history had been immortalized by artists in their works
(Un)covering – Get acquainted with the history of the Nude in Serbian Art
Beauties and Heroes – Meet the phenomena of "femininity" and "masculinity" in the artworks from GMS collection
Streets and faces of Novi Sad – Discover stories about the history and personalities of Novi Sad
Pantheon of Artists – Discover the most significant artists in the collection of GMS
Presentation of Dragiša Brašovan's Collection – find out more about the famous architect Dragiša Brašovan through a story about his home and his personal belongings.
A Glimpse into the icon painter's Atelier – find out how painters created their artworks before the industrial production of paints.
Family visits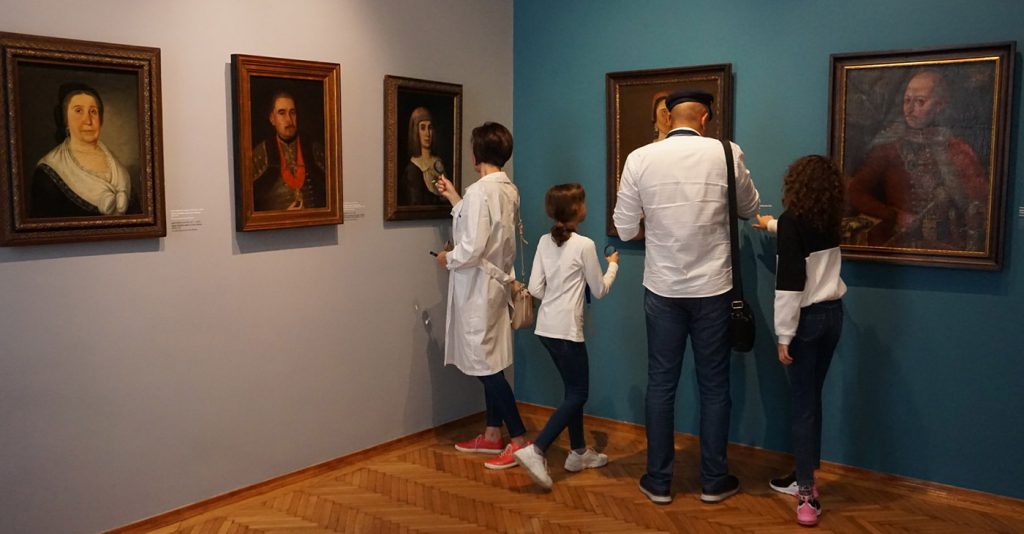 We invite you to spend your leisure time with your little ones surrounded by art. For that we offer at your disposal special amenities and activities:
Free entrance on Tuesdays for parents with babies
Family tickets for three or more family members
Children's room – an area for creative playtime intended for babies and children
Mothers and babies corner – with an armchair for breastfeeding and feeding, and a baby swaddle
Treasure Hunt – Children's booklet-guide through the Gallery in Serbian, English, and French
Adventure for Big and Small Ones – Family booklet-guide
Feel the Art – Mobile application for children and adults in Serbian and English.
For a better experience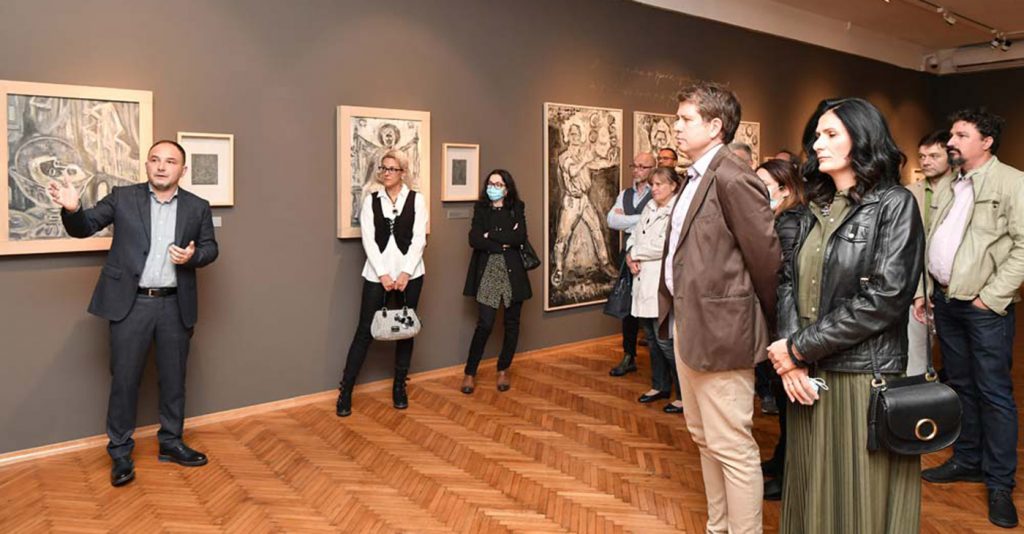 Weekly programs
To introduce you closer to our Permanent and Temporary Exhibitions and make your visit more meaningful, various programs are organized in the Gallery during the weekend:
Fridays at 7 p.m.: lectures and guided tours
Saturdays and Sundays at 1 p.m. and 5 p.m.: guided tours
You can find detailed program in Calendar.
Digital Platform for HoloLens 2 Feel the Art
You can enrich your museum experience by using the digital platform for HoloLens 2  Feel the Art. The platform in Serbian and English, with elements of augmented reality allows you a more interesting and different interpretation of works of art exhibited in the Permanent Exhibition of the Gallery of Matica Srpska.
Ask for HoloLens 2 at the GMS Shop.
Indulge in Art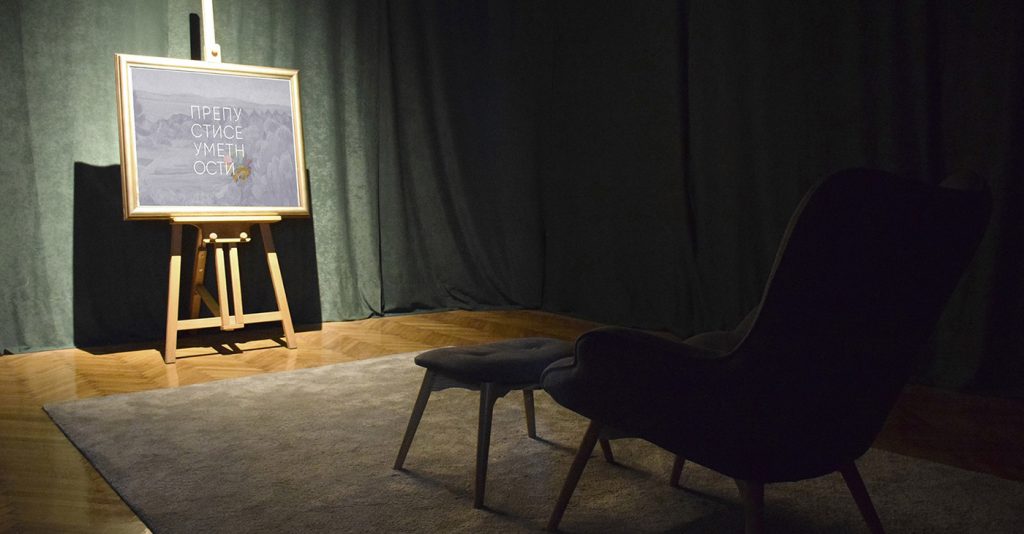 Visit us, play with your thoughts and feelings, re-examine them in contact with artworks and let yourself drift away…
In order to make your stay and experience of art unique, we have prepared a special room within the Permanent Exhibition space of the Gallery of Matica srpska – a room for indulging in Art. Every month, a different artwork which creates a specific atmosphere waits for you. In the synergy of art, sound, space and light, you will have the opportunity to be alone with the artwork and to experience it in your own way.
Read more about a room for indulging in Art.
All information about tickets and prices can be obtained by calling: +381 21 4899 013 or read on our Information page.